SPAIN
Vitis vinifera is the species of grapes that the best wines are made from. They have been in Spain so long, it is believed that they pre-dated people. So, unlike many of the places we have discussed in this blog, many of the grapes in Spain, are from Spain. These vines have been in Spain for over a million years. It is therefore no surprise that Spain has the largest acreage of planted vineyards in the world, and ranks 3rd in total production behind only Italy and France. Again NO SURPRISE. The people of Spain tend to party like rock stars.
Spain got passed around by civilizations kind of like (to stay with a theme) a groupie at a rock concert. The Phoenicians, the Romans, the Moors (Not to be confused with the Moops). I will stop here to say that as Muslims, the Moors were conflicted about the grapes due to the religious stance of not drinking, and all that saved the vines were the grapes that were eatable for the soldiers on their marches, oh, and the money that the wine was able to bring back to Spain.
In 1492 Columbus went to the new world, and with him came the wine trade. Particularly Sherry and likely a very oxidized and strong wine went to the new world for trade. The English also liked the Spanish wines, and particularly the Sherry until the Spanish defeated the English in the Armada of 1588. this is proof once again that if you are in sales, and you take a client golfing, sometimes it is a good idea to let him win. After the Armada, the English tended to buy far less Spanish wines.
The next major event, in the face of declining quality, or more specifically the quality of the other European wines getting better, came in the 1850s. It came in the form of a little aphid called Phyloxera which struck France, leaving the French with no wine to make. After all, the best wines are made from grapes according to the French, and they had none. They therefore came to Spain looking for some of their grapes. The Bordeaux winemakers trained the Spanish, and quality quickly improved. It is also why Rioja uses many techniques from the Bordeaux region including aging in Bariques. The one caveat is that the Spanish tend to use American barrels. Unfortunately, Spain also got hit with Phyloxera in the early 1900s. this followed by the Franco government, and trade with Spain plummeted. After Franco's death in 1975 however, there was a revival. Miguel Torres used the first Stainless tanks which allowed the Spanish winemakers to control the amount of oak. The wine laws came into play in the 70s, and Spanish wines were challenged by more modern techniques. Today, they are some of the best values in the wine industry. I like them a lot, and drink my fair share of them.
The DO laws were finalized in 1972. DO stands for Denominacion de Orgen. Each DO has a police officer of wine (Consejo Regulador) to ensure the wine makers are doing what they are supposed to. The agency responsible for the reguladores is the INDO (Instituto Nacional de Denominaciones de Origen).
Spanish wines fall into 5 categories ranging from table wine (VDIT), VCIG, DO, DOC, and finally DO PAGO for the best single vineyard wines in Spain. As of 2003 there were 15 DO Pago wines in all of Spain. This was an attempt to classify vineyards of highest quality, like their friends in Bordeaux. These include Marquis de Grinon, Guijoso, Arinzano, Otazu, and Pago Ayles to name a few.
Wines can be Joven (Less than 12 months in oak), Crianza (6 monts in oak and 2 years aging in a bottle (In Rioja it requires a year in oak, plus one in a bottle), Reserva (3 years aged with one in a barrel. Whites and Roses must have 2 years aged and 6 months in oak), and Gran Reserva which requires 5 years of age with 18 months in barrel (24 months for Rioja). Even Gran Reserva whites and Roses must be aged 4 years with 6 months in oak.
You will also see a new aging system with Noble (18 months), Anejo (24 months) and Viejo (36 months).
Spain sits on a massive plateau known as the Meseta. The climate has influences from both the Mediterranean and the Atlantic with the Eastern side being cooler, and typically making better wines. Most of Spain is in a rain shadow so it is dry (Except for in Galicia). Due to hot summers, the best vineyards of Spain are at higher elevations. There are also rivers throughout Spain. The Ebro, from whence comes the name of the Iberian Peninsula, the Duero, the Tajo, the Guadiana, and the Guadalquivir are the most important for the growing of wine.
Spain's weather make things like Mildew rare. There is also a low yeild due to the dry climate as well as the poor soils. As a result, vines are generally spaced at least 8 feet apart, making the yields low. This explains why Spain is 1st in vineyard acreage, but only 3rd in production.
Be careful when buying a Spanish wines because the traditional wines of Spain are exposed to a very Oxidative process and can therefore be an acquired taste. The more modern wines are more commercial, and tend to be more fruit forward due to the adoption of new technologies, and the use of Stainless tanks.
There are over 600 grape varieties in Spain. DON'T WORRY, I will not cover them all. Some worth noting are Albarino (White) Granacha, Godello, Temmpranillo, Viura (Same as Macabeo- White), and Malvasa, and Airen (most planted in Spain-White) to name a few.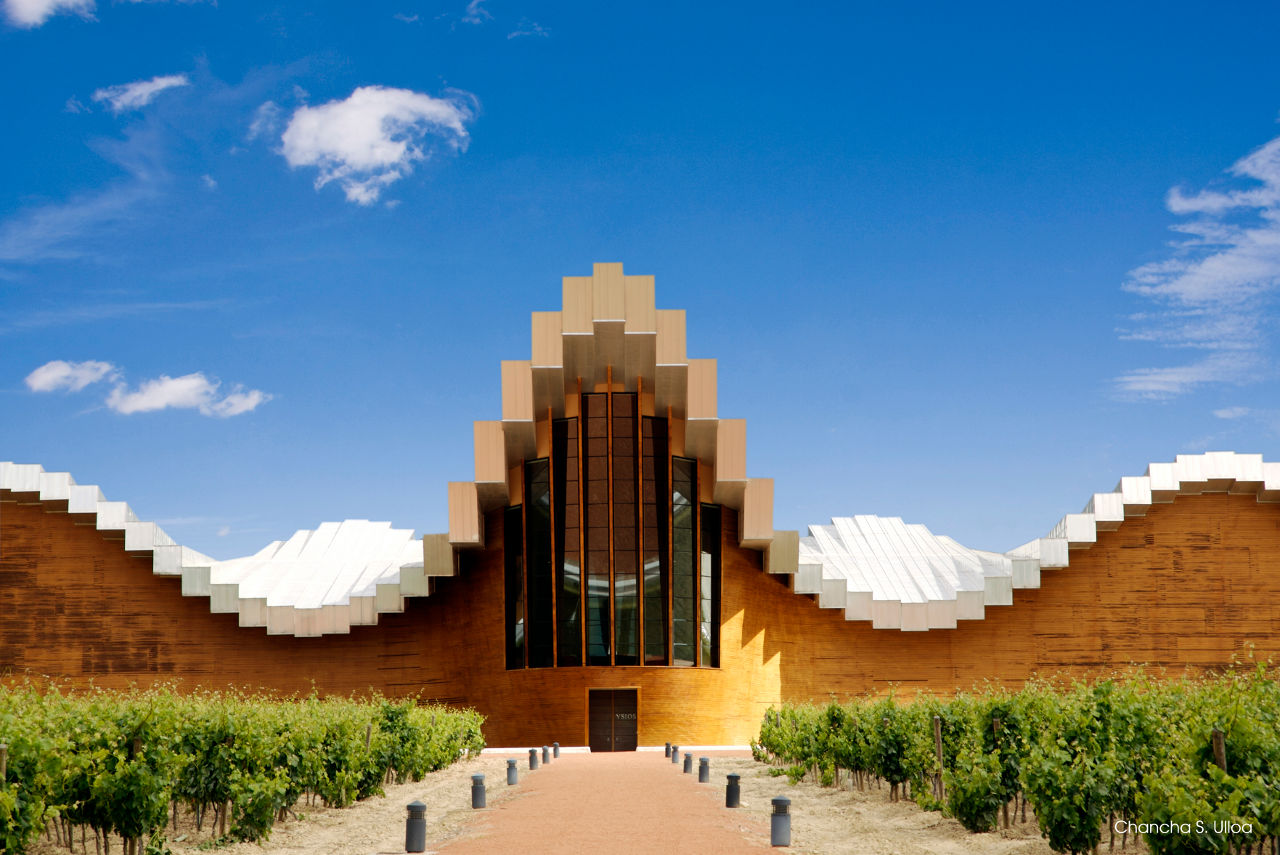 Ysios in Rioja
The most important region in Spain is Rioja. It is broken into 3 sub-regions Rioja Alta (Most age worthy), Rioja Alavesa (Vino Joven), and the Rioja Baja (Mostly Garnacha). Grapes from the Baja tend towards Garnacha, but the main grape of the region is Tempranillo. Others include Mazuelo (Carignan), and Graciano, and Maturana Tinta. 85% of Rioja must come from these grape varieties. Other grapes like Monastel or Cabernet can make up the remainder. Viura (Macabeo) is the dominant white grape followed by Garnacha blanca, Malvasia and Maturana blanca. Chadonnay, Sauv Blanc, and verdejo may be used as well but must make up less than 49% of the blend. Rosado (Rose) wines are also made and must contain at least 25% red grapes. Generally wines from Rioja source grapes from the Alta, the Alavesa and the Baja for their blends. Lopez de Heredia produces single vineyard wines from his Bosconia and Tondonia vineyards. Ysios does the same.
Navarra produces similar style wines to Rioja from Tempranillo and others, but uses far more grape varieties in its blends.
Autonomia of Aragon is more of a Garnacha region. As is Campo de Borja, and Calatayud.
Carinena is also in the Ebro valley. The area gets its name from the grape called Carinena. Garnacha, Tempranillo and Carinena reign supreme here. Viura is the main white grape.
Somontano uses grapes like Alcanon (White) and Parraleta (Red) along with other international varieties.
Galicia and the Basque Country in the North is our next stop. Perhaps the most important part of this region is Rias Baixas where they make a white wine from Albarino. This wine is 100% Albarino unlike others that are blend. This wine has stone fruit, citrus flowers, and sometimes has the suggestion of bubble gum. Also, many of these wines have a salinity to the finish. Ribeiro is known for whites made with Treixadura, a red is made with Caino, and a dried wine is made called Vino Tostado which is a lot like vin santo in Italy.
Ribeira Sacra or the Sacred Bank, so named because of its concentration of churches has pitched vineyards that hug the river. This region makes a nice red wine from Mencia grapes and whites from Treixadura and Godello.
Valdeoras and Monterrei are small regions with Valdeoras making a very clean fruit-driven white from Godello that is high in acid and great for food.
The Basque country can be summed up by saying the words are hard to pronounce, and I am not even sure how to pronounce them even when they are written out. There are 3 DO zones. Getariako Txakolina, Bizkaiko Txakolina, and Arabako Txakolina. They produce white, red and roses. Ondarrabi Zuri makes the best whies and the majority of wines in the region. Ondarrabi Beltza makes the best reds and the rare roses known as Ojo de Gallo are made as blend from the two grapes above.
Castilla y Leon is most known for the Ribera del Duero. Other DOs of the area include Arlanza, Cigales, Rueda, ToroTierra del vino de Zamora, Arribes, Tierra de Leon, and Bierzo. Castilla y Leon is located between the Atlantic and Mediterranean but still sees extreme high temps and low temps.
Bierzo DO and Tierra de Leon DO makes great use of the Mencia grape. It must be present in a minimum of 70% of the reds of the regions, and 50% of the roses. Many of the wines are made from 100% Mencia, and due to top producers some are getting top dollar. Whites are also made here from Godello and Dona Blanca. Palomino is still the most frequent grape grown. Another grape that grows in the area is the Prieto Picudo which produces high acid, high tannin wines that are very cellar worthy.
Ribera Del Duero DO, Tinto del Pais (Tempranillo) gets planted with Bordeaux varieties and even Pinot Noir. Vega Sicilia has long been the most influential maker in the region, but others like Pesquera, Pingus, and Aalto make great wines as well. In 1982 Ribera del Duero achieved its DO status, and it had only 9 producers. Today there are nearly 300. Only reds and a few Rosados are made here. Tempranillo is the main grape. Crianza wines must age 2 years with one in cask, Teserva must age 3 years with 1 in cask, Gran reserva wines must age for 2 years in cask and 3 in the bottle for a total of 5 years.The best wines of the Ribera del can be very expensive and frequently go for hundreds of dollars.
Rueda produces whites from Verdejo, which is prone to oxidation, but with the right technique produces a beautiful aromatic wine. Sparkeling and reds are also made in Rueda.
Toro is responsible for the anatomically correct, non neutered bulls all over the Spanish countryside. They are made from Tinto de Toro (75%), a local strain of Tempranillo. They also produce whites from Verdejo and Malvasia, and rosados.
Tierra del vino de Zamora DO produces all three colors as well with reds coming largely from Tempranillo, They benefit from proximity to Rib del Duero, but are generally not nearly as good.
Cigales DO produces reds from Granacha Tinta and Tinto del Pais (85% combined) but is noted for its rosado and nuevo rosado.
Arlanza DO is a DO that got its designation in 2007. Here both Duero valley varieties as well as those from Bordeaux go into the blends.
Catalonia has 10 DOs. The most important of these is Priorat. Priorat DOCa is in the Southwest of Catalonia. Rene Barbier came to the region to produce a new kind of wine after working in Burgundy and neighboring Spanish regions. Granacha and Carinena are the traditional grapes. The yields here are particularly low due to the poor soils. The best vineyards have Llicorella soils which is very dark black slate. They require the vines to dig down for water. There are 12 villages of note in Priorate. They are Bellmunt del Priorat, Gratallops, El Lloar, Masos de Falset, La Morena de Montsant, Poboleda, Porrera, Scala Dei, Les Solanes, del Molar, Torroja del Priorat, La Vilella Alta, La Vilella Baixa.
Montsant surrounds Priorat and produces wines from Garnacha and Carinena. These wines are a value alternative to Priorat as the prices continue to rise.
Tarragona DO makes Cava and communion wines.
Terra Alta, Concao de Barbera, Costers del Segre and Pendes also make wines in the Catalan.DO
Also of note, CAVA can be made anywhere in Spain and is the spanish version of Champagne. Not really though, because it is refreshing and cheap. Grab a bottle of Cristalino Cava for 10-20 dollars and you will have a great drink. Basic Cava is aged 9 months, Reserva 15 and Gran reserva 30 months. None of that really matters though. The wine is plain refreshing.
In the South, Jumilla, Yecla, Bullas, Valencia, Alicante, Utiel-Requena, and others make wine as well. Of those, I will just briefly cover Jumilla, Yecla and Bullas where wine is made in sandy soils that resisted Phylloxera until the 1980s. This allowed a renewed focus on quality. Monastrell is the grape in this region. Thick-skinned and drought resistant this is the perfect grape for the region.
There are many other places in the South of Spain, but I will not cover them here. The one last note I will make is Sherry is the South's greatest contribution, but I will cover that in another discussion.
I will end the same way I began, by saying that some of the best deals in the wine biz can be found in Spanish wines. For 20-30 dollars you will find high quality wines. Spend a bit more, and you will find wines that are incredible. This is a part of the world worth looking into. I suggest you do.