Grape Vines Grown in my Front Yard
How Did I Get Here?
I enrolled in the second semester of Sommelier Certification at Harper College yesterday, and I must admit, I took a brief pause. What am I doing? Why am I doing this? Who or what am I doing this for? How and why are there grapes growing in my front yard...In Northbrook, IL? Yep, they are most certainly in my front yard because the back yard does not get enough light. We have covered that before, lest you forgot, but it is still funny.
So I pondered. Me, a person who barley if at all remember my dad taking a sip of any alcohol let alone wine. We grew up on screw top wines before they were in vogue. Wines like Manaschewicz, and Mogen David. Hardly fine wines by any stretch. I also remember taking my first drink. I was in college believe it or not. I never liked the taste of beer, and never had any interest in wine. Finally, after years of trying, beer made sense. I liked scotch next, and then years later wine. Wine was a drink I would have with food. Being in grad school, it was not great wine, but I was interested.
I remembered being newly married and going out to Napa/SonomaValley on a work trip, and having my wife meet me out there. I know it sounds romantically ridiculous, but the air smelled different. Things slowed down, and not just because we were drunk. The mountains, the farms, the WINE. There was no where to be, and even if there was, we could not get there fast. It was wonderful.
I remember some of the wineries we visited. We were young, had no money, and are not planners, so we wandered and often wandered into large, well known wineries. We stopped by St. Supery, Cake Bread, Kunde, Kenwood, Valley of the Moon, Rombauer, Beringer, Coppola, Rodney Strong to name a few. These were large production wineries that made largely good product. We also accidentally wandered into some smaller more intimate wineries. These included Chateau Potelle (Still a favorite for many reasons) and Regusci.
At the time, Regusci was a laid back location making small production wines that can be measured in the hundreds of cases. When you walked into their tasting room you were promptly greeted by two corgi dogs and a yellow lab. The dogs were the fuzzy equivalent of the old men at Walmart who welcome you just to get away from their spouses for the afternoon. Half awake, more often half asleep, excited to see you for a minute, but not enough to move.
The man behind the counter was from Wales, and had a spectacular accent. He was pouring for us, and for a group of four to our right, bouncing back and forth, and making jokes in a rather irreverent way. That is until the man to our right said something about paying taxes so that illegals could pick their grapes, and send it back to their homeland...Less jovial, the man from Wales explained that these "illegals" do hard work, and that he should thank and praise them for doing work that wineries could not pay anyone else to do. "And by the way" he said, "you don't pay any taxes here, you are from Utah."
At this point one would have expected that the man would leave, but he kept going for a while. At this point the tasting room guy says, "Isn't it funny, even great wine can taste like S%&T when you have to drink it with an A%& Hole like you. GET OUT!"
He then promptly came over to us and apologized profusely. I told him that his stock went up in my book for that. He offered us any bottle of wine in the place to share with him. We chose a Cabernet, and he poured for all of us. It was then that I fell in love with wine. He told me, "You know, the opposite is true as well." Pardon? I said. He told me a very average bottle of wine shared with great people, or in a great moment can taste fantastic. You will frequently remember it even more fondly than it deserves." To this day, that remains true. I have often had that experience remembering a great bottle, and then returning later to find that it was the moment and not the wine that made it great.
On that same trip we joined the Club at St. Supery as much because they got us drunk as anything else. We walked the grounds looking at the sculpture gardens, and the art in the tasting room. It took us an hour and a half to feel comfortable getting into a car. We still have the goofy pictures to prove it. We are still members of their reds only club, and happy to be.
Also on that same trip, we stayed at a B and B in downtown Napa. Pouring at the happy hour was a guy named Tony with a fantastic group of wines, and an even better story. Chateau Potelle was an estate winery off of a road called the Veeder Grade. The winery was started by Jean Noel and his wife Margarite. They were hired by France as Spies to look into the Napa wine-making situation in 1980, and according to them they sent a telegraph back home saying, "Looks Good, We Stay!" They call their Reserve wines VGS (Very Good SH&T), and until recently had cougar prints on their Zin, Syrah and Chardonnay bottles to represent the need to off the deer on the mountain to protect their grapes. They too had dogs (Opus was a puppy and recently purchased at an auction at the Opus winery). The view of the valley from their location on the mountain was also beautiful. We smartly brought a picnic to the winery and sat on a bench looking out at the beauty below. Joined that wine club too and are gladly still members til this day. We consider the team there to be friends, and their wines are more often than not what we turn to for celebration.
Napa has always felt like home. I have never lived anywhere outside of Chicago, but when we go back, we feel at home. Good wine, good food, great people, and good friends all make us want to be there even when we are not.
The next memorable wine trip was to Tuscany. We had been drinking Chianti Clasico Riserva from Monsanto winery for 4 or five years. The first time we tasted it, the bottle was purchased from gold standard liquors in Skokie, IL. When I picked up the bottle to purchase it, largely because I thought it was funny that it was called Monsanto, I was immediately yelled at from across the store. "YES, YES, YES!!!" The store manager bounced over with so much excitement to tell me that in a blind taste test, that Chianti (1999) won over wines 3 times its price. We bought a case for 12.99 a bottle. Sad it is gone. We had to go to the winery!
Unfortunately driving through Tuscany, while beautiful is not easy or straight forward. We missed the turn and got to the winery hours later than we were supposed to. We headed to another winery and hit Monsanto on the way back. It was beautiful. Again we were greeted by a dog, a great Pyrenees and a young woman who in broken English said may I help you? We explained what had happened and apologized. She told us it happens a lot, and said that while she could not give us a full tour, she would be happy to show us around. An hour later, we had seen their tunnels, their library of wines stored in beautiful cave "lockers" behind ornate wrought iron gates. It was a shrine to their family's life. Wines bottled when kids were born, when people were married, and there was a story to go with every wine. It was beautiful. I only wish we had gotten the full tour. It must have been amazing!
That night we had dinner in Volpia overlooking the valley at a restaurant called La Bottega. We ordered a bottle of Chianti Clasico Riserva. It was amazing. I understood the concept of a savory wine right away. Beautiful sour cherries, earth, and almost a balsamic like flavor came through. The wine had some VA, and was oxidized slightly, but the acid's ability to carry the rich pasta dishes, and how it made me want to take another bite and then another was something entirely new to me. Being that it was pre 9-11 we brought home wine in our suitcases and it was all Volpaia. It was great wine, so don't take this the wrong way, but Volpaia owes La Botega some bonus payments because the food and the view at the restaurant sells some wine. It did for us anyway.
The next trip to highlight was to Spain, where the wines were amazing, and there was no need to spend a lot of money either. Rioja was cheaper than water in much of the country. While we did not get to go to a winery, we had a local bottle at all of the restaurants we visited, and were rarely if ever disappointed in what we were drinking. Wine complimented the food, and the high acid wines matched the foods we ate perfectly.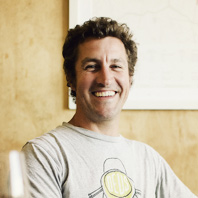 I have made many trips to places and paired foods with their wines. Places like Greece, Israel, Germany, Prague, and many other places of travel. But it was not until recently that all of this came together for me. I traveled to Australia, which was really like coming full circle (Of the globe if nothing else). While there I visited the Yarra Valley. We drank a lot of good wine. Jamsheed, Timo Meyer, Yarra Yering, and most notably Mac Forbes. All were great, don't get me wrong, but what made Mac's Place so great was Mac and his wine maker Austin. We walked in and Mac was chasing two young kids around the winery. One was kicking a football and riding his bike seemingly at the same time, and the other required a nappy (diaper) change. It was like a 3 ring circus.
Mac Explained that because his wife was away on business, he would not be able to show us around, but that Austin was more than able. Both of them were like kids in a candy shop excited every day by what they were doing. You sensed that they felt lucky to be doing it. And I felt lucky that they were able to do it and share their fantastic wines with us. Austin took us into the basement of the winery, and shared wines from multiple barrels. We tasted sweet and off dry Riesling, Pinot Noir, an experimental Nebbiolo, Cabernet Sauvignon. Some were single vineyard offerings and others blends. All were ripe and electric with a tense acidic finish. These were daring, beautiful interesting wines. Austin was like spider-man climbing the barrel racks for our next tasting. Clearly OSHA does not apply in Australia. We were there tasting for over two hours, and did not taste a single bad thing. Also, the wine was YOUNG only having been in barrels for a couple months, so it was my first tasting of wines that young. When we were done, we went upstairs to taste the wines from the bottles, they way they meant them to be tasted. I was fascinated by the aging process, and what it did for these amazing wines. Rounding edges, Smoothing sharpness, softening tannins were all words I had heard, but now I understood.
What was interesting, is that Mac owns nothing but his label. He rents the building with all of the equipment, he buys grapes from farmers (He has a lot of say as to how they are grown), so at the end of the day, he is a guy with a big garage, making the wines that he likes to make from grapes grown near bye. This business model repeats itself with Negociants in France, in the Santa Rita Hills, and in many places throughout the wine making world. But Mac was the first time I had seen this model at work.
On the flight home I thought, I could do that. Hmmm. Can't I? The answer really is no. I can't. Mac has spent a lot of time studying his craft, he has hired wine people who also know a lot about making wine. However, I can do something like it. I bought some vines (8 Vines). I bought some grapes from neighboring vineyards (Lodi and Napa are close neighbors) and I have made wine. The wine I have made from grapes is good. Not great, but it is good. I have learned a lot along the way, and Most importantly I have had fun.
So why am I doing this? It goes back to Regusci. Wine-making is an art, it is an organism, it is a social gatherer, it is enjoyment, and finally it is a memory in a bottle. Making wine allows the winemaker to play with and create all of these things. Ultimately, I am a person who loves the social aspect of food, and wine and the culture and memories that they together provide. Perhaps the thought that good wine shared with great company makes the wine better. But maybe the other is true too. Good company with great wine makes the time spent together more interesting. To enjoy wine tags the memory that you are creating. It is that simple. Many of the memories I shared in this post are 10-15 years old, and yet I remember many of the details vividly. The more of your senses that you are able to involve in a memory, the more likely you are to recall the moment. This is why wine is so important, and why I continue to dedicate hours of my life to the pursuit of its understanding. I hope you are creating great and exciting memories, and that you are able to make wine, food a friends a big part of them.